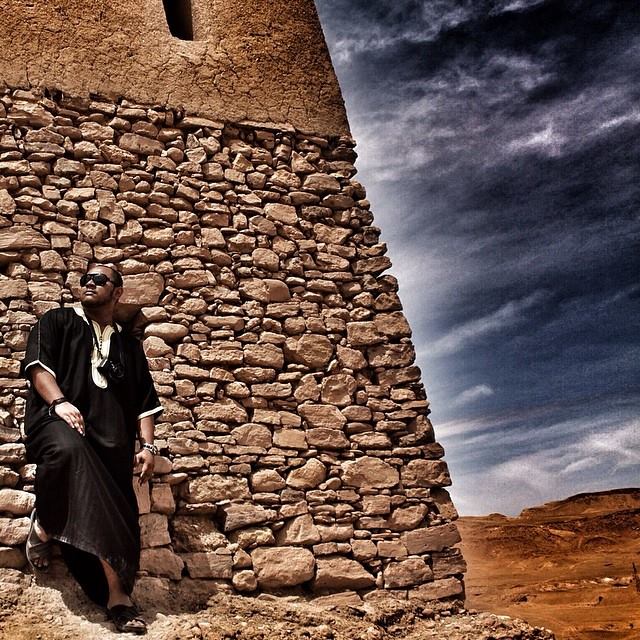 Visiting Morocco has been a dream of mine for as long as I can remember. I've always wanted to ride a camel, see the desert, explore maze-like medinas, and drink tea with Berbers.
As I stood overlooking the Sahara one morning, marveling at the rhythmic, undulating dunes of the desert, I realized that my dream had come true.
For miles around, the dunes rolled like red-tinged waves in the sea. I had ridden a camel to the spot where I would gaze at a million stars that night, smiling at the fact I was finally somewhere I had dreamed about under the same stars thousands of miles away.
For two weeks, I traveled around the country on Intrepid Travel's Best of Morocco tour and gorged myself on couscous, drank my body weight in mint tea, hiked, and absorbed the sights and sounds of Morocco.
Of all those moments, these were my favorite experiences from the trip:
Sahara Desert Adventure

(CLICK ON IMAGE BELOW FOR MY SAHARA ADVENTURE)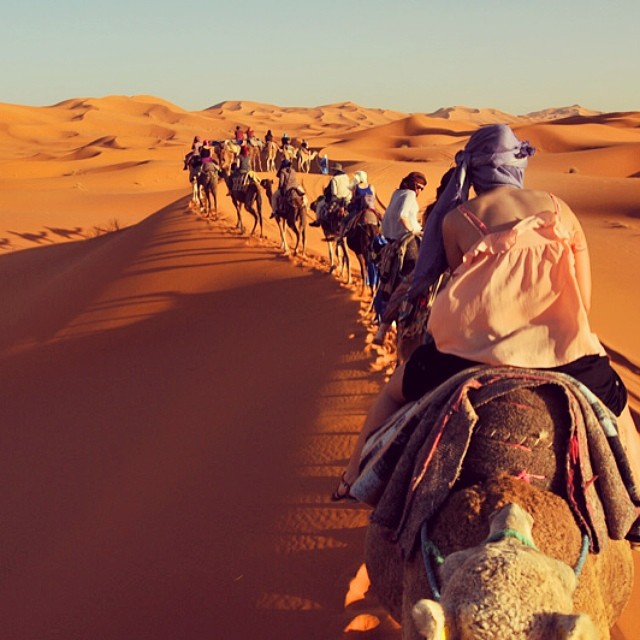 Eating at Café Clock

Travelers drinking tea in Cafe Clock in Fez from above
Recommended to me by many people and with locations in Marrakesh and Fez, this Western-influenced café is famous for its gigantic and delicious camel burger (which tastes a lot like spicy shawarma). The food is excellent: the burger, green smoothies, and melt-in-your-mouth buttery chicken couscous were so satisfying I ate here twice. And, in the crazy and chaotic medinas of each city, the cafés provide an oasis of calm, where you can recharge, use Wi-Fi, and cool down with air conditioning. They also offer cooking classes and host regular events in each location!
Getting lost in the medinas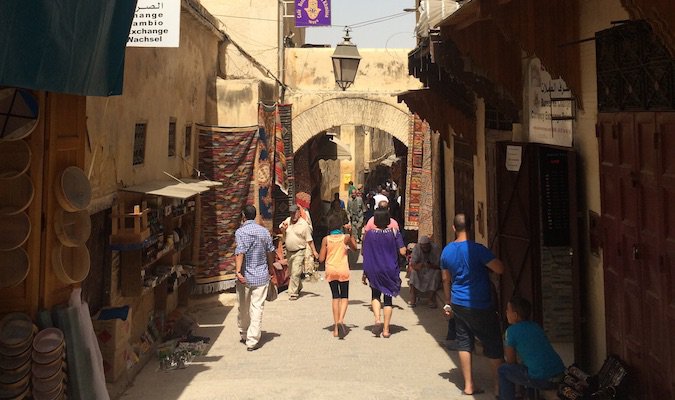 Walking through the medina in Moroccan city
The medinas are the historic hearts of each city in Morocco: part residential area, part shopping center, part food market. Here you'll find twisting and turning streets where shops, restaurants, markets, and homes all line the streets in buildings seemingly too close together and too old to stay up much longer. As someone who loves to get lost, the medinas were heaven. I spent hours wandering through them, making right turns, doubling back, walking through plazas and streets that kind of looked familiar, and finding my way, only to get purposely lost all over again. They were a maze I loved trying to solve while also drinking tea, eating delicious and fragrant food, and seeing the sights.
Word of caution: Fez is a bit sketchy and unsafe, so do not go too far off the beaten path. Stick to streets with lots of people. I had some close calls involving pickpockets and potential robbers.
Exploring Volubilis

Ancient city of Volubilis ruins in Morocco
A major trading center and the southernmost settlement during Roman times, Volubilis is one of the best preserved (and least frequented) such ruins in the world. I found it empty of tourists, not built up, and open in a way that really lets you get up close and see the structures without being behind ten feet of barriers and jostled by crowds. Most of the city is still unexcavated so the site has a very raw feel to it. I've been to a lot of Roman ruins in my travels, but I love this one the best.
Seeing Aït Benhaddou

Visiting kasbah of Aït Benhaddou, the famous backdrop of many films outside of Fez, Morocco
Though I didn't get to spend much time here, exploring this place full of kasbahs (fortified houses) was pretty amazing. It is the Hollywood of Morocco and has been featured in Game of Thrones, Gladiator, Lawrence of Arabia, and many more films. It was the most picturesque ksar I saw, which is probably why it's in every movie! It plays into what people think an old ksar -fortified village – should look like. I enjoyed roaming the streets and climbing to the top for the view.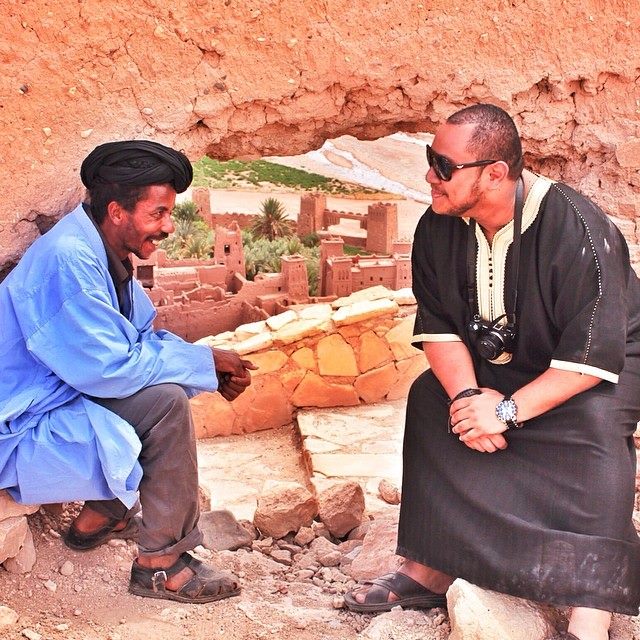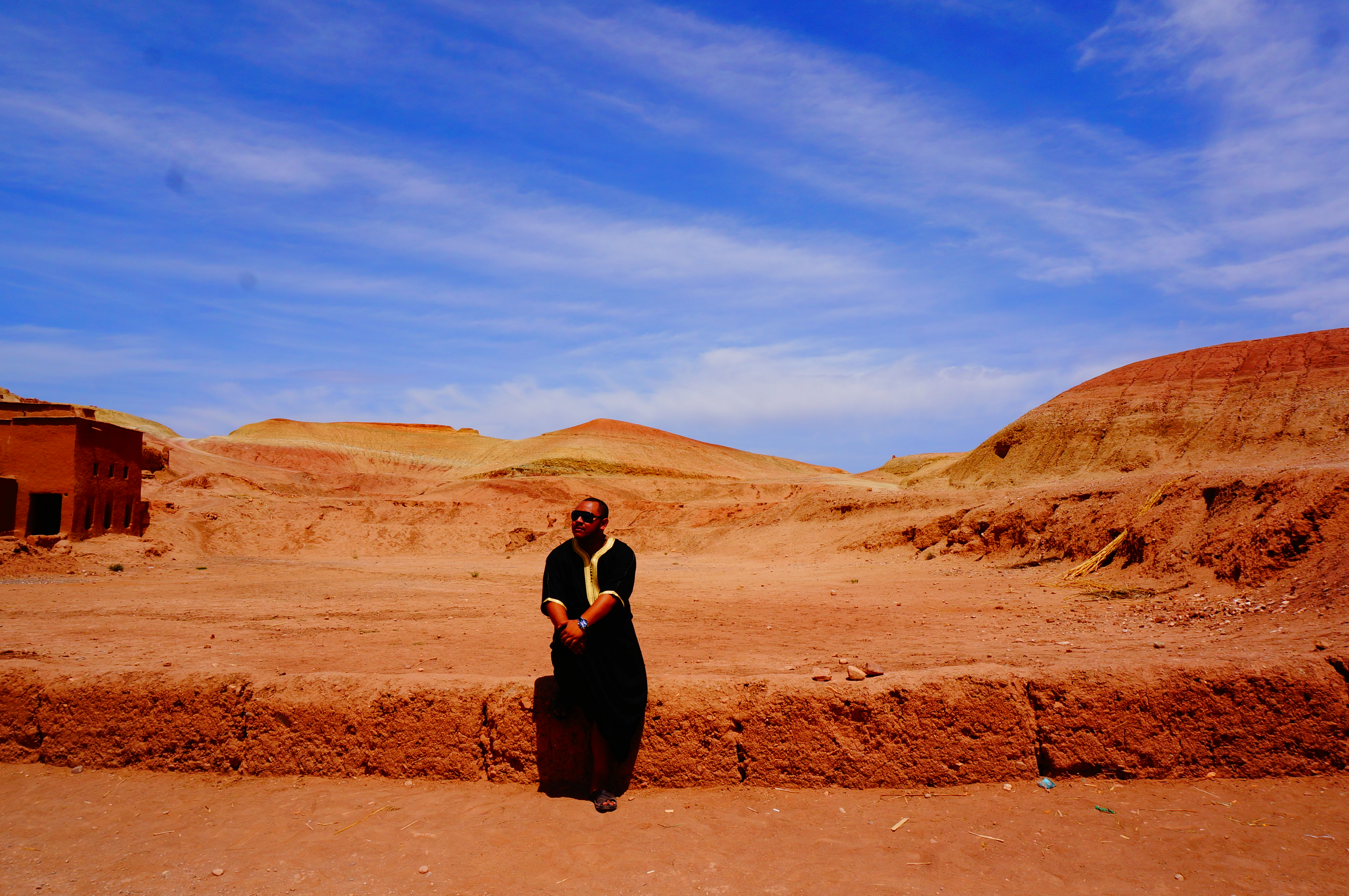 Enjoying the beach and seafood of Essaouira

Sunset and birds flying over the water in peaceful Morocco
My favorite city in Morocco, Essaouira is located a few hours from Marrakesh on the Atlantic coast and is a popular beach destination for tourists, especially Brits. I loved the relaxed atmosphere of the city, the lack of pushy touts, the sea air, and all the fresh fish.
Be sure to visit the wonderful fish market in town, where all the small fisherman sell their day's catch. Afterward, check out the small fish stalls nearby in the main square where you can enjoy fresh seafood grilled really cheap. My friends and I "splurged" on a meal here: for $75 USD total, the four of us shared a lobster, eight tiger prawns, two fish weighing over a kilo, and half a kilo of squid. All that came with drinks, bread, salad, and tea. (We ate there every day, and meals afterward were about $15 USD.) Try stalls #5 and #11 for the best fish!
Visiting Marrakech

Landscape of the Moroccan desert
Marrakech was everything I thought it would be: a modern mix of Moroccan and international culture with the most diversity of delicious international food (check out PepeNero for Italian and Latitude for a Med-Moroccan mix) and beautiful architecture in the medina. Though Marrakech lacked the grit and edge of the rest of the country, it was the most eclectic city on the trip.
The chaotic pace exposed a city and people always on the go. The famous Jemaa el-Fnaa square is truly the mess everyone describes: tens of thousands of people at night eating, shopping, getting henna tattoos, listening to bands and storytellers, and watching magicians (and snake charmers during the day). It's one of the most hectic but fascinating people-watching places in the country. It still blows my mind how big and full it was! (Contrast that to the underwhelming Saadian Tombs, which is an attraction I would skip — they are simple, the grounds are small, and overall, it was just bland.)
Eating lots of couscous and tagine
Delicious Moroccan chicken tagine in a clay dish
By the end of my two weeks there, I was a bit "couscoused out." That said, I dove head first into eating as much of it as possible — I loved savoring the flavors, seeing the regional variety, and getting to really appreciate how long each dish took to prepare. Tagine (cooked with meat, dates, nuts, cumin, turmeric, cinnamon, and saffron in a clay pot) was by far my favorite Moroccan dish. Also worth trying is the Berber omelet, which is egg, tomato, onion, and herbs, also cooked in a clay pot.
Drinking mint tea
Traditional afternoon Moroccan tea set ready
I've never drunk more tea than when I was in Morocco. In a country where "having a beer" is not a thing, locals substitute pots of mint tea. There's even an art to pouring it: the higher the teapot, the better. I couldn't get enough of this minty, sugary treat and sitting in the tea shops watching soccer with the locals. I must have drunk a pot or two a day. Man, that stuff is addicting!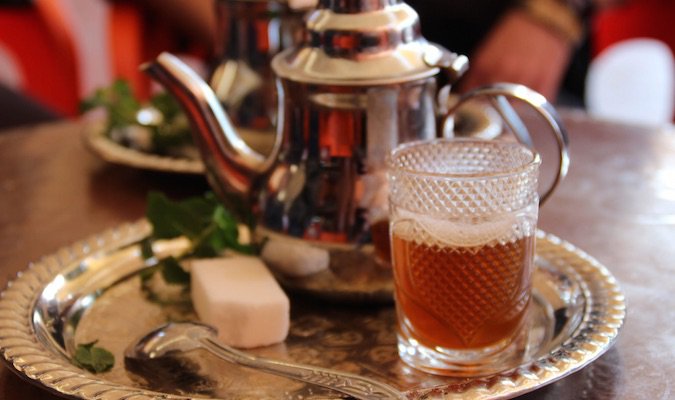 Hearing the call to prayer
While I've been to predominantly Muslim countries before, in Southeast Asia, I've never experienced an Arab Muslim country or heard the call to prayer. There was something beautiful about the melodic nature of the call, and it was a great alarm clock at 5 a.m. Seeing people flock to the mosque in their white prayer clothes was a unique cultural experience I couldn't help but observe.
Morocco is an incredibly destination. At times, it was trying, stressful, chaotic, and overloaded my senses, but for all the stresses of travel, it was a country where I felt out of my element and like I was truly somewhere new and different. I loved that feeling and everything else about Morocco
Chefchaoun

Chefchaouen or Chaouen is a city in northwest Morocco. It is the chief town of the province of the same name, and is noted for its buildings in shades of blue. Chefchaouen is situated in the Rif Mountains, just inland from Tangier and Tetouan . (Source:Wikipedia)
Shisha

What's Going to Morocco without a taste of an ancient habit, the Shisha